Bordered by the sea on the East and the North, the temple walls on these sides are washed by the foaming waves of the Gulf of Mannar. The date of the temple is hidden in the Puranic past. The nucleus of the structure however has been here for more than 2,000 years as the Tamil Classics inform us.
Tiruchentil means as it does, the House of Victory. It borders the sea and has all the natural charm of a hero's fortress. It is verily a haven of Peace and Bliss. The Tamils in this part of the peninsula have such an attraction for the place and its presiding Lord Arumuga Nayinar.
As one of the foremost spiritual centres, the temple has been an attraction for the all the Hindus ages. In the "Thrirumurukatrupadi", a classic of the third century AD, six chosen spots in the Tamil soil were r
eferred to by Nakkirar as of more than ordinary capacity for the worship of Lord Muruga. Tiruchendur occupied among them the second place in importance. This was the only temple of Lord Muruga locted on the Sea Shore in South India. His shrines are always situated amid mountains and forests for these regions are considered dear to Lord Muruga. The variance here is possibly due to Lord Muruga's divine mission to free the Devas, and the vanquishing of evil in the form of Surapadma and his mighty hosts in Veeramahendrem mid ocean forest. The tamils have ever celebrating the event as an annual during skanda Sasti.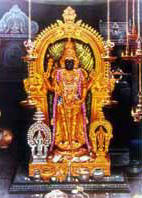 As this spot, Lord Muruga was said to have encamped before and after the vanquishing the asuras ans worshipped Siva at the shrine Mayan has built for Him. The "kanda-madana-parvatha". A red sand-stone rock of this coast received its foundations. A lofty gopuram also rose beside it. A part of the cliff was borned into a form the holy sanctum of Subramaniam. The red sandy rock round about further carved into, and the rolling the hills of sand moved away to gain more space. The Second and Third Prakaras were then designed and brought into being. The pandiya and Cherra, their vassals, improved the temple. Maharaja Marthandavarma of Travancore Samasthanam, endowed the very first Udaya Marthanda Kattalai of each morning and the others followed in the nine "aradharas" of the day.